Starlims Technology Platform is the foundation of each Starlims system, either HTML5 or XFD based. It contains the building blocks necessary to build and operate robust LIMS systems decoupled from the underlaying details of operating systems, browsers and databases.
The unique design of Starlims systems allow independent upgrade of the underlaying Technology Platform from the workflow and business rules. Upgrades of the Technology Platform are highly recommended in order to keep Starlims systems secure, modern and highly performant.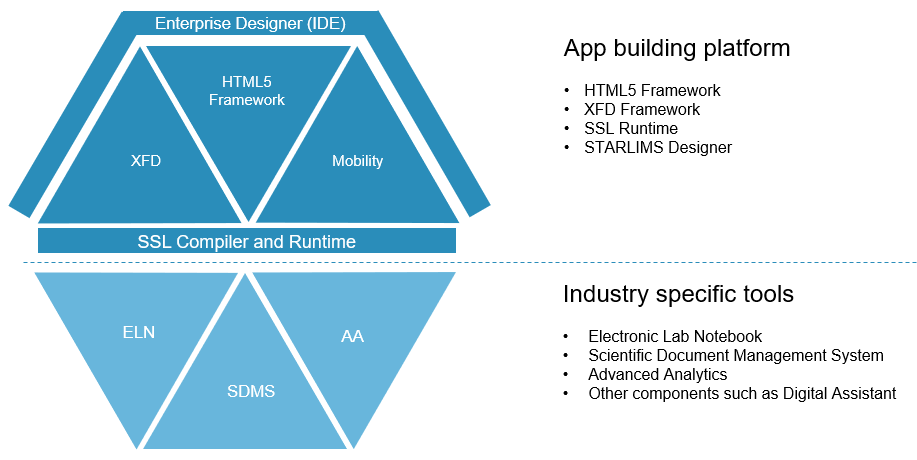 What's new in Technology Platform v12.1 release?
Starlims Technology Platform v12.1 is the first maintenance release after the massively popular release of Technology Platform v12. As a result, it brings important stabilizations and improvements across many areas of functionality.
New HTML5 Screens for SDMS applications
Users of SDMS and HTML5 based Starlims systems are getting a major update with the TP v12.1 release. SDMS now joins the rest of the LIMS system in having modern HTML5 based UI for the most popular apps such as SDMS Admin, Documents, Incoming Queue, My Tasks, and Sync Analyzer. This update eliminates the dependency on the bridge for these SDMS applications while offering users a more consistent look-and-feel and better performance.
Improved printing capabilities
Server-side printing is an essential capability of our Starlims software. Until recently we relied on Adobe Acrobat to do the printing, but with this new Technology Platform upgrade, the server-side printing will be based on a more robust and performant server-side component. This will surely improve the efficiency and stability of even the most demanding print jobs.
Simultaneously, HTML5 based systems will get a more robust client-side label printing functionality. Industry leading Zebra printers can now be utilized directly from the client-side for a more interactive and fast experience.
Improved System Interfacing
System Interfacing, our new communication hub between Starlims and the outside world, is getting an important improvement in this TP release. The Rest API capability introduced in the last release is now more robust and flexible allowing System Interfacing to connect to multiple servers simultaneously using the Open API specification.
Security
Data protection and information security are important concerns for the modern lab. Via Technology Platform upgrades Starlims security is continuously enhanced in alignment with industry recommendation and independent findings.
The main security highlights of this release are the ability to use AES 256 bit when encrypting PDF documents, use RSA as default for all SFTP functions as well as exposing SHA 512 and SHA 256 hashing algorithms for SSL developers.
Other improvements and bug fixes
As with any release of TP, we take the opportunity to enhance all areas of our technology as well as to address defects identified in the field or in our official tests. The list of these enhancements and fixes is too extensive to be mentioned here but can always be found in the official Release Notes document that accompanies the release.